---
Monday, February 27, 2012
Sage Advice to Start the Week
Interested in some words of wisdom to start the week? A recent issue of the ABA Journal e-news shares a worthwhile article from the Washington Post's blog, which reports on a book, "30 Lessons in Living: Tried and True Advice from the Wisest Americans.'' Its author, a gerontologist, interviewed more than 1,000 Americans age 65 or older to gather words of wisdom derived from experience.
Among the book's interviewees was Sonia Pressman Fuentes, an 83 year-old trailblazing lawyer who worked with the Department of Justice, National Labor Relations Board, Department of Housing and Urban Development and the Equal Employment Opportunity Commission, among others. Fuentes, now retired, offered her own list of lessons for life:
1. Work at your passion, if possible.
2. Get an education and as much education as you can and you need for what you want to do in life.
3. If possible, do something worthwhile and meaningful in your career — with a purpose that is larger than just your life. My fulfilling life in retirement is based on the skills and contacts I developed during my professional career.
4. Network, network, network. Get a business card and give people you meet one of your cards. If you meet someone anywhere that attracts or interests you, try to keep them in your life. Send them an e-mail after meeting them, suggest lunch and then e-mail them clippings and information that may interest them. "It's not what you know but whom you know" is very true. I find it's what you know and whom you know. Tell people what your interests are and what you'd like to do; you never know when someone you least expect may have a tip or contact for you.
5. Travel abroad — and do meaningful travel like Road Scholar (formerly Elderhostel) programs, the Peace Corps and Global Volunteers, not just meaningless sightseeing.
6. Do not be afraid to write, fax, talk to or e-mail people or organizations you don't know if you have something to offer. The maxim "nothing ventured, nothing gained" is true.
Here's a link to the Washington Post article with 12 suggestions that the author distilled from his interviews.
7:43 am est
Friday, February 24, 2012
Bring on the Basics: The OCBA's ABC's of Practice
Recent law grads have shared the same complaint–law schools don't teach the fundamentals of establishing and growing a law practice. With our difficult economy bringing fewer job opportunities, young lawyers eagerly seek out programs that provide this information.

I commend the Oakland County Bar Association for its "ABC's of Practice" series that has helped fill the void. This new series, offered free of charge, provided timely, informative, and well-presented programs. Developed by Oakland County lawyer Cynthia Brazzil, with assistance from several Oakland County practitioners, it included these topics:

· "Resumes and Interviews," where a panel conducted mock interviews and elicited comments from the audience. To keep the discussion flowing, the program assembled a panel of experts to add comments. The program also included resume review.

· "Hanging Out Your Shingle," where a panel discussed the fundamentals of establishing a law practice, including business development, formation of entity, and accounting issues. This was a wonderful event; I joined the panel and spoke on legal marketing

· "Practical Practice Advice," which offered practical tips from lawyers as well as a former practitioner who is now a consultant.

The Oakland County Bar Association also offers an "Intro to Practice" seminar series to assist young lawyers.

Programs like "The ABC's of Practice" are excellent examples of how local bar associations have made themselves relevant, engaged their members, fostered mentoring relationships, utilized the talents of established lawyers in the community, and, in the process, expanded their member ranks. Nice job, OCBA. And while we're on the topic of helping young lawyers succeed, please remember to recommend the State Bar's free programs such as the Practice Management Resource Center, Casemaker legal research program, and Career Center.
9:43 pm est
Monday, February 13, 2012
Waiting for Spring Weather? Watch What You Wish For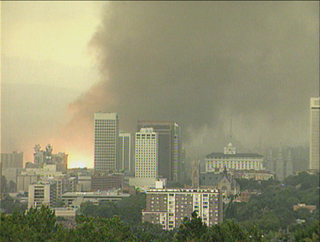 The ground is snowy outside of my office, and more snow is on the way tomorrow.

If you're like me, you're waiting for warmer weather when we can escape our offices and enjoy the outdoors.

Watch what you wish for, however.

April through July is tornado season in Michigan.


During the ABA Mid-Year Meeting earlier this month (in New Orleans, which showed strong signs of recovery from Hurricane Katrina), I attended a fascinating program on disaster preparedness.

The very clear message was that lawyers, businesses, and firms should take cautious proactive steps now to prepare for the possibility of a disaster.
What if your office were hit with a tornado or flood?

Are your files protected?

Are your computer data properly backed up?

Where would you and your workers transact business if your office building were demolished?


The State Bar offers resources to help you.

The Practice Management Resource Center has a section devoted to disaster preparedness, includng articles, DVD's, and checklists.

Also, please be assured that the State Bar's own house is in order; a few years ago the bar developed a Disaster Response Plan.

Photo credit: National Weather Service Forecast Office, Salt Lake City, Utah.

9:24 pm est
Thursday, February 9, 2012
Congratulations to the Award-Winning U-D Mercy Law School Veteran's Law Clinic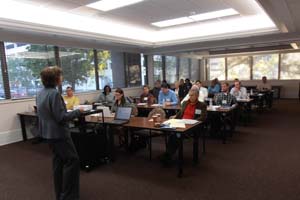 Being the daughter of a World War II veteran, I couldn't be more proud of a program that serves veterans.
Last week, while attending the ABA Mid-Year Meeting in New Orleans, I had the pleasure of cheering on the University of Detroit Mercy Law School as its
Veterans Law Clinic
received a "Meritorious Recognition" award in the category of the
Louis M. Brown
Award for Legal Access.
The ABA Standing Committee on the Delivery of Legal Services presented the award during a luncheon.
Among the U-D Mercy contingent present was State Bar Commissioner
Margaret "Peggy" Costello
who was instrumental in establishing the program.
The program is worthy of recognition. Established in 2007, it assists low and moderate-income veterans and families with obtaining VA benefits. It also conducts community-based informational sessions, provides referrals and pro se clinics regarding benefits and other legal issues, helps set up veterans' diversionary courts in similar programs, and has a mobile law office that delivers services directly to clients and homeless shelters. To date, it has helped veterans recover approximately $800,000 in retroactive benefits as well as ongoing monthly benefits.
Consider becoming involved. The program trains volunteer attorneys. For more information, here's a link to the training schedule and a page offering other suggestions on how you can help.

Congratulations to everyone at U-D Mercy who have worked so hard to provide this important program.

Pictured is Professor Costello leading a training session at the State Bar offices last October as part of the Veteran's Law Clinic Project Salute Program.
10:52 am est
Thursday, February 2, 2012
Davis-Dunnings Bar Association: New Name, Same Impressive Organization
February is Black History Month.

It is a month dedicated to celebrating the many accomplishments of black Americans.

This month is perfect timing for the launch of the new "Davis-Dunnings Bar Association."
You probably haven't heard of the "Davis-Dunnings Bar Association."

If you're a Lansing-area lawyer, however, chances are good that you know the group well.

It is the Lansing Black Lawyers Association, with a new name that took effect February 1.

If you're a Lansing-area lawyer, you might also know of the two very accomplished lawyers for which the organization is now named, the late Judge John Davis and the late Stuart J. Dunnings, Jr.

For more information on the group and these two outstanding lawyers, read the State Bar press release here.


Other than its name, there's nothing new about the DDBA.

It has been active for more than 30 years.

When it was formed, it was the only bar association outside of Detroit to address the needs of African American lawyers.


Congratulations to the newly renamed Davis-Dunnings Bar Association.

Congratulations, also, to its leaders, including President (and my friend and fellow Foster Swift lawyer) Janene McIntyre, for paying tribute in a lasting way to two outstanding Michigan lawyers during Black History Month.
10:40 pm est
---
About Me
Thank you for visiting my blog. My name is Julie Fershtman, and I was the 77th president of the 42,000-member State Bar of Michigan from September 2011 through September 2012. A member of the State Bar for over 26 years, I practice with the law firm Foster Swift Collins & Smith, PC, in its Farmington Hills office, where I'm a Shareholder. My areas of practice include commercial litigation, insurance defense and coverage, sporting and recreational liability, agribusiness law and liability, and equine law. As a lawyer, I especially enjoy trial work; I've tried cases before juries in 4 states (Michigan, Ohio, Illinois, and Connecticut) and have been admitted as pro hac vice counsel on cases in 12 jurisdictions nationwide. Business will continue during my State Bar presidency, with assistance of lawyers in my firm and the cooperation of fellow counsel and judges.
Aside from my law practice, I also enjoy speaking and lecturing on liability, insurance, and risk management at seminars, conventions, CLE programs, and conferences across the country, including the Insurance Skills Center. In 2011 I spoke on a panel at the ABA Annual Meeting in Toronto; I also spoke as a panelist on ABA webinars in 2011 and 2012. I also love writing. I've written 2 books and have contributed to or co-authored 4 ABA books, most recently in 2009 and 2011, as well as 5 law journal articles for the ABA Tort Trial & Insurance Practice Section. My writings include about 200 articles on legal subjects.
I grew up in the Detroit area and graduated from Emory College in 1983 and Emory Law School in 1986. On a personal level, my father (the late Sidney Fershtman) was a Michigan lawyer, and my husband is a lawyer. Although work, family, and bar activities leave little time for hobbies, my favorite hobby is horses. With an empty horse barn on our property in the Detroit suburbs, chances are good that I'll be riding horses some time after my service as State Bar President concludes.